At the 20th anniversary of KOSUN, they signed contract on another 2 sets of 70D drilling solids control systems on 20th June, 2012, which would mean another wonderful transformation of KOSUN in the drilling equipment market of Mid-Asia.
The other party of the contract is Sino-Kazakh Great Wall Drilling Company (ТОО " Казахстанско-китайская буровая компания Великая стена" ), which was set up in November, 1999 and is now located in 43A Meltaglough Street in the city of Aktobe of the State of Aktobe in the northwest Kazakhstan. That State is 1500 kilometers away from the capital and is put in the northwestern part of Kazakhstan. It covers the land of 30.06 squaremeters and is home to 672,600 people. Averagely speaking, there are 2. 2 people per squaremeter.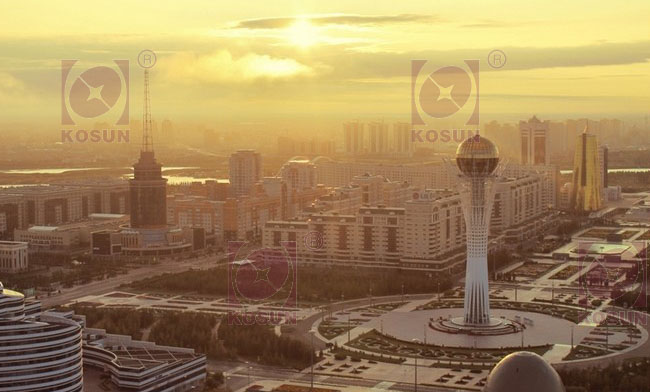 Sino-Kazakh Great Wall Drilling is the specialized technique support company affiliated to CNPC Great Wall Drilling Company as well as the joint venture invested both by Great Wall Drilling Company and CNPC-International Aktobe Petroleum Corp. It is now the largest drilling company in Mid-Asia with its annual output reaching 0. 15 billion US dollars, being in possession of 30 various drilling machines and 3250 staff in total.

Sino-Kazakh Great Wall Drilling is, at present, an integrated company capable of independent implementation of the matched technique services like, contracted drilling project, drilling fluids technique support, casing and cementing project, directional drilling project, accident salvage, core drill project, as well as such services as mechanical machining, drilling machine maintenance, pipe maintenance, derrick relocation and installation, water well drilling, provisions, and life services, etc. Its main execution area is in Zhananoel District, which is 265km away from the headquarter in Aktobe and where the frontline commanding center is founded. The center is mainly in charge of a commanding base and 3 project teams, which are the Zhananoel Commanding Base(N 48" 32" 01" , E 57" 15" 00" )Zhananoel Oilfield Team, Kenkiyak Oilfield Team(N 48" 32" 01" , E 57" 15" 00" ) and Hope Oilfield Team(N 47" 52" 52" , E 57" 26" 40" ).
Since the establishment of KOSUN Service Co., Ltd ( Kazakhstan ). in the year of 2009, KOSUN has always been the exclusive solids control service supplier for Sino-Kazakh Great Wall Drilling Company and Batys-Munai Drilling Company. Besides, KOSUN has got a frontline service base and 2 storehouses in Zhananoel frontline, thus being able to maintain the solids control system and supply the accessories to the drilling companies working at the frontline for 24/7.
Meanwhile, after its solids control manufacturing factory in Aktobe, set up on 7th April, 2012, was put into operation, KOSUN has been able to manufacture and maintain the solids control equipment, diesel& water tank, camp with the lease delivery cost and zero tariff for the customers from 5 Mid-Asian countries, including Kazakhstan, the Repubic of Uzbekistan, Turkmenistan, the Kyrghyz Republic, the Republic of Tajikistan as well as Russia and Ukraine.
This time, the ordered 2 sets of 70D drilling solids control system are all produced by KOSUN and it consists of several main equipment as mud tank,
shale shaker
, mud-cleaner, centrifuge, centrifugal pump, mud agitator, submersible slurry pump, sand shed, electric control system, etc. All the equipment and accessories included are all designed and manufactured.
We believe that will be a wonderful transformation for KOSUN in the Mid-Asian oil drilling equipment market when the solids control systems are put into operation in its Kazakh factory since it will prove that KOSUN is definitely capable of providing the most satisfactory services to the Russian and Mid-Asian customers.
KOSUN' s products on the site of reparation in Kazakhstan

KOSUN' s products on the site of reparation in Kazakhstan

KOSUN' s solids control system on the site of services in Tajikistan

The photo of KOSUN' s after-sale service engineers and local crew